Things have been busy on the writing front. Glynn Young reviewed my short story anthology Subterranea at his Faith, Fiction, Friends blog saying, "What Duran plumbs here is the 'subterranea' of the human mind and heart. " Reviews are slowly coming in for The Ghost Box. Austin Gunderson wrote a nice piece over at the Speculative Faith website. From The Ghost Box and the Spirit Sea:
The Ghost Box is a paranormal thriller in the vein of That Hideous Strength and The Apocalypse Door. Like those novels, it starts out small — a rumor here, an industrial accident there — and slowly ramps up until the world itself hangs in the balance. But, despite its religious imagery and eschatological overtones, this novel is about as "Christian" as Hellboy. As a kind of stylistically-superior version of Ted Dekker's Saint, Duran's story ignores the major players one expects to meet on the spiritual plane: here, God, Jesus, and Satan are notably absent. And yet the vacuum they leave teems with a menagerie of minions — angelic mimes, vampiric aliens, shapeshifting action girls, and transdimensional Eldritch Horrors. And in the midst of it all is Reagan Moon, a jaded journalist nursing doubts over his girlfriend's death and sneering at the credulity of his own reader-base. As a child he dreamt of fighting evil, of throwing in with the side of light in a field of cosmic conflict, but not anymore. Not since loss dimmed the light in his eyes. Not since he became a rationalist.

Little does he realize the conflict is about to find him.
Dude. I should hire this guy to write all my blurbs. I just learned this morning that Publishers Weekly will also be reviewing The Ghost Box. This took some work. Now I can only hope they recognize the complete awesomeness of the novel and send readers flocking for their own copy. OK. As long as they don't pan it, I'm good.
After much flip-lopping and lolly-gagging, I finally went and started a Facebook fan page for my writing. One of the reasons I decided on this is that Facebook does not allow you to run promotions and boost posts on your personal page. Being that I plan on doing some giveaways and promotions, I figured it was time to pull the trigger. If you'd like to keep up on my writing, and you haven't done so yet, you can Like my Author Page HERE.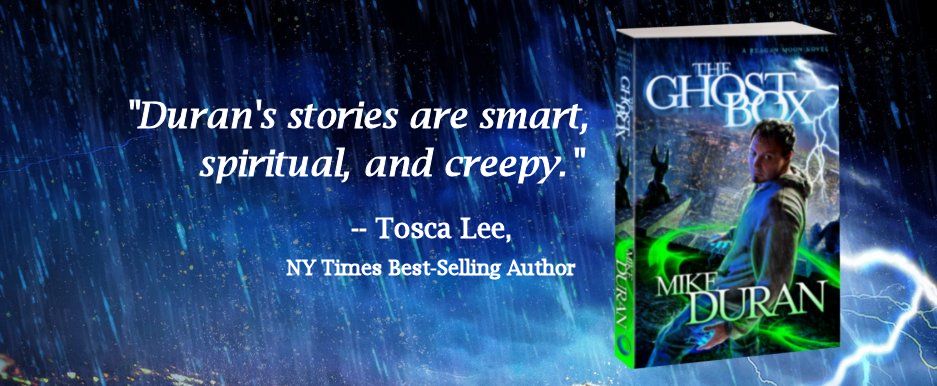 Finally, I'm gearing up for the release of my first lengthy non-fiction project. I say "lengthy" because it's 32K words (about 120+ pages). The title is "Christian Horror: On the Compatibility of a Christian Worldview with the Horror Genre." It's a bit technical, but fans of the horror genre and Christian culture should find it interesting. Chapters include "Religion in Horror," "Horror in Religion," "Evangelical Culture and the Horror Genre," "Christian Horror — Towards an Apologetic," and "Objections to Christian Horror." I'm self-publishing it, as it doesn't exactly fit with traditional fare. It will be available next month (May) in digital format. Really excited about this project.
Anyway, there's a brief update. Thanks for reading.
{ 0 comments }