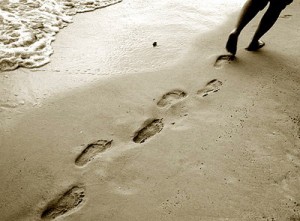 Stories like this always bother me. It's a week or so old, but… From the Times Online, David Foster Wallace commits suicide:
The book world is reeling today from the apparent suicide of David Foster Wallace, one of America's brightest literary stars.

The author of the acclaimed "Infinite Jest" (1996), whose verbal pyrotechnics and mordant wit earned him a cult following, was found dead at his home in California. He was 46.

"Wallace's wife had called police saying she returned home to find that her husband had hanged himself," Claremont police said.
Suicides happen every day, and in the grand scheme of things, they tend to get lost in the shuffle. You know, Hurricane in Florida, Presidential race tightens, Terrorist attack in Pakistan, Economy in the tank… and, oh, some writer killed himself.
I've not read anything by David Foster Wallace, and apart from being sensitized to suicide through personal circumstances, it's the next line that makes this so poignant:
In taking his own life, Wallace joins such American literary giants as Ernest Hemingway, Sylvia Plath and Hunter Thompson.
So you know where I'm going with this. Why do so many artists kill themselves? Just last year, two seemingly successful American artists, Theresa Duncan and Jeremy Blakein, inexplicably committed suicide. Wealthy. Attractive. Loved. Dead. Why? After seeing his remarkable one-man performance Swimming to Cambodia, I began following Spalding Gray's career until, in March 2004, he jumped to his death in New York City's East River.
Is there a pattern here? I mean, the van Goghs and Kurt Cobains of the world may be uniquely gifted, but their demise is certainly uninspiring. Why, then, do the gifted so often flame out? Perhaps Hunter Thompson thought he was making some grand statement when he shot himself in the head. But, in the end, how can you not ponder cowardice as the real cause of death?
No, I don't intend to be demeaning. Nor insensitive. People suffer from all kinds of terrible delusions and ailments. We suffer. All I'm asking is whether this "tortured artist syndrome" is just a caricature or a genuine condition. Does creativity carry its own freight, a built-in burden that predisposes the recipient to solemnity, lonesomeness, and despair?
To commemorate Wallace's death, The Wall Street Journal recently reprinted a commencement speech given by the writer to a group of graduates in 2005. In light of his suicide, there are some haunting lines:
Probably the most dangerous thing about college education, at least in my own case, is that it enables my tendency to over-intellectualize stuff, to get lost in abstract arguments inside my head instead of simply paying attention to what's going on right in front of me. Paying attention to what's going on inside me. As I'm sure you guys know by now, it is extremely difficult to stay alert and attentive instead of getting hypnotized by the constant monologue inside your own head. Twenty years after my own graduation, I have come gradually to understand that the liberal-arts cliché about "teaching you how to think" is actually shorthand for a much deeper, more serious idea: "Learning how to think" really means learning how to exercise some control over how and what you think. It means being conscious and aware enough to choose what you pay attention to and to choose how you construct meaning from experience. Because if you cannot exercise this kind of choice in adult life, you will be totally hosed. Think of the old cliché about "the mind being an excellent servant but a terrible master." This, like many clichés, so lame and unexciting on the surface, actually expresses a great and terrible truth. It is not the least bit coincidental that adults who commit suicide with firearms almost always shoot themselves in the head. And the truth is that most of these suicides are actually dead long before they pull the trigger. And I submit that this is what the real, no-bull- value of your liberal-arts education is supposed to be about: How to keep from going through your comfortable, prosperous, respectable adult life dead, unconscious, a slave to your head and to your natural default-setting of being uniquely, completely, imperially alone, day in and day out.
I get it. Especially the part about "getting hypnotized by the constant monologue inside your own head." Is that what happened to Wallace? He became "a slave" to his own head? But, even moreso, is he describing a phenomena — a condition – that every artist is painfully aware of? The constant monologue inside your own head. The watching, weighing, thinking, dreaming…
But how does one keep from being imprisoned by it?
Or maybe beauty is the culprit. After a suicide you'll typically hear that. "She was so loving, so beautiful, she could not stand all the pain and ugliness of this world." Remember the bridge to Don McLean's Vincent?
and when no hope was left in sight on that starry
starry night.
You took your life
as lovers often do;
But I could have told you
Vincent
this world was never
meant for one
as beautiful as you.
Beauty, yes. That fragile, idealistic hunger for Truth and Order, trampled roughshod by sickness and greed and evil and injustice and –
But does suicide make that right? Does suicide silence the monologue? As much as creative bents produce artistic angst, giving in to desperation cannot yield the beauty the artist so desires. I've officiated far too many funerals for relatives of suicide victims to think otherwise. So she was sensitive and deep and creative — so what! By killing herself she leaves wounds that will never, ever be healed. I will concede that artistic genius comes with baggage. But what I will not concede is that that baggage somehow sanctions one to take their own life.
Yes, I feel too deeply. I hear the "constant monologue" inside my own head. Like you, I yearn for beauty. Ache for it. But suicide does not produce beauty; it only adds to the ugliness that artists, so often, want to alleviate. Rest in peace, David Foster Wallace…
Stumble It!