It feels like a confession, but I've always been fascinated with the paranormal. Near Death Experiences (NDE's), Telepathy, quantum consciousness, UFO's, ghosts, etc., etc. The problem has always been finding objective sources to ponder such anomalies.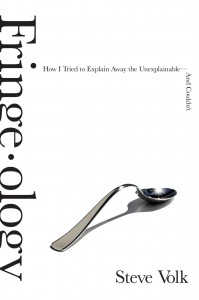 In case you haven't noticed, there's extremists on both sides — those who will believe anything and those who will believe nothing. I think I fall somewhere in between.
But finding research that falls "somewhere in between" is difficult. Last year I read, Files from the Edge, subtitled "A Paranormal Investigator's Explorations Into High Strangeness." The book was framed as an objective report, but the more I read the more I realized the author was anything but objective. He was a believer, and it showed. I'm currently reading another book on the subject, Fringe-ology. As many of these books, Fringe-ology is described as an objective inquiry. I'm about half-way through and, thus far, I'd have to say, surprisingly, that's true. There's tons of science and math and weirdness in Fringe-ology, which has made this enjoyable reading for me.
As a Christian, I am faced with another set of problems when researching the paranormal: Evangelicals flatly deny it. Common consensus has psi, telepathy, telekinesis, etc., as either
Those are your two options.
When I was a young Christian, I stumbled into this debate rather innocently. I'd read Watchman  Nee's The Normal Christian Life and benefited greatly from it. I began studying Nee's other writings until I was warned by some leaders in the church I was attending (an Evangelical church with some Charismatic leanings) that Nee drifted into the occult. The book in question was The Latent Power of the Soul in which Nee speculates that Adam possessed "soulish" (or psychic) powers and, after the Fall, those powers were suppressed.
For the record, I have not read The Latent Power of the Soul. But as a young Christian, what was even more fascinating was the ensuing brouhaha that erupted. It was spearheaded by Dave Hunt's book The Seduction of Christianity in which Hunt asserts that a vast deception is occurring in Christian ranks; faith teachers, faith healers, psychological theory, humanism, and positive thinking are all parts of a devilish scheme to deceive the masses. Nee's writings were cited as part of this Satanic stratagem.
Subsequently, our church removed all of Nee's books — as well as those by James Dobson, Robert Schuller, the positive confession crowd, etc. — from our book store.
Some thirty years later, I look back with regret. What a great teaching opportunity that would have been! Instead, it was over-reactive and demonized a lot of people. To this day, it's hard to find balanced treatment of psychic phenomenon and abilities in Evangelical churches. Really, it's hard to find ANY treatment. It's almost as if one's concession in the paranormal is just a step closer to "the dark side."
But is paranormal phenomenon really that cut-and-dried?
As I wrote in my Afterwards to The Resurrection, (which you can read HERE on Google Docs),
[Conceding spiritual phenomenon] might trouble some folks. The larger issue, as I see it, is coming to grips with the world we live in. Scripture paints a universe of vast mystery, teeming with intellects (visible and invisible) both good and evil, and phenomenon beyond our wildest imaginings. This is why the Bible contains wondrous stories – stories we often take for granted — about miracles, visions, reviving corpses, warrior angels, talking mules, fiery chariots, demonized swine, tongues and prophecies. We simply live in a supernatural world. The downside—paranormal phenomenon does not always fit tightly into our theological framework. Deal with it.
I wonder that it all comes down to that — our "theological framework." We Western Christians sometimes think that everything has to fit, that everything is explainable in black and white terms. There's no more room for mystery. You're either (1) a Believer or (2) a Skeptic. It's either (1) Satan or (2) God. And everyone knows "Near Death Experiences, Telepathy, quantum consciousness, UFO's, ghosts, etc., etc." are NOT of God.
Are some psychic powers sinful or Satanic? Yes! Are some paranormal occurrences deceptive and demonic? Absolutely! But are all of them? That's what I'm not sure of. And I feel guilty about it.