The mind cannot retain what the seat cannot endure.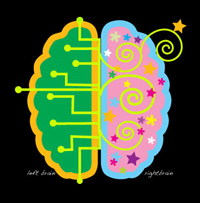 That's one of those phrases preachers and professors learn, sometimes the hard way. Another is the value of a good story.
Nothing breaks up the monotony of facts, information, and instruction like a good yarn.
I've seen it over and over while teaching. Without some color, the listeners glaze over. Spouting stats and facts and chapter and verse might make you sound like an expert, but it has the cumulative effect of warm milk and a soft blanket to your audience's noggin. Which is why one of the best tools in a speaker's toolbox is story. Metaphor, allegory, image, anecdote, parable — these do something to your listener that makes the experience more tolerable, if not downright enjoyable. Phrases like
Think of it as…
It's kind of like…
It's been described as…
It reminds me of that old story about…
You've heard that joke about…
A famous writer once said…
My grandmother used to say…
These things disencumber the brain.
Which is why I'm not surprised at these findings from brain researchers that  Metaphors Make Brains Touchy Feely:
Scientists have disagreed for decades about how the brain processes metaphors, those figures of speech that liken one thing to another without using "like" or "as." One camp claims that when we hear a metaphor—a friend tells us she's had a rough day—we understand the expression only because we've heard it so many times. The brain learns that "rough" means both "abrasive" and "bad," this camp says, and it toggles from one definition to the other. The other camp claims the brain calls on sensory experiences, such as what roughness feels like, to comprehend the metaphor. (emphasis mine)
In other words, metaphors that involved sensory experiences — warmth, chill, placidity, dizziness, nausea, slipperiness, etc., etc. — evoke something more than just an image. They call up the actual feeling. During these recent studies, scientists mapped the brain regions of subjects as they listened to "a torrent of textual metaphors."
The language-processing parts of volunteers' brains became active regardless of whether the volunteers listened to the literal sentences or the metaphors. But textural metaphors also activated the parietal operculum, a region of the brain involved in feeling different textures through touch. That part of the brain didn't light up when listening to a literal sentence expressing the same meaning as the metaphor.

The result suggests the brain's grasp of metaphors is grounded in perception. (emphasis mine)
This could explain why a congregant will perk up when I say, "You know what a burning tooth smells like? Or the sound of the drill on bone? Or when that pool of saliva gathers in the back of your throat while the dentist is hovering over you, oblivious of your impending gag?"
See?
Anyway, it supports a long-held theory of mine that fiction actually engages the mind and body in ways non-fiction can't. Story does more than just allow us to escape, or make us laugh and cry. Stories actually take us somewhere — physically and emotionally — that facts cannot.
Which could also explain why Jesus told so many of them.