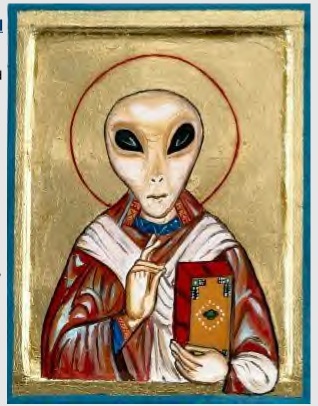 I'm geeked about seeing Ridley Scott's new sci-fi epic Prometheus, and have been following details about the film with interest. Besides the insanely cool-looking special effects, what really intrigues me is the movie's thematic elements. Apparently, Prometheus is an origin's story.
John Morehead recently expounded on this in a post entitled Ridley Scott's' 'Prometheus': Origins and Wonder in a New Mythology. Morehead writes:
Scott has spoken of Prometheus as setting forth a mythology that includes an origin story. Humanity has long wondered where it has come from, and answers have come from religion and non-religious ideologies. In his origin story as portrayed in Prometheus, Scott draws from the ancient astronaut hypothesis. This idea was popularized in the late 1960s by Erich von Daniken, and it holds that certain advanced phenomenon in ancient cultures can best be explained with reference to the appearance of aliens who visited and influenced human cultures with their technology.
This "ancient astronaut hypothesis" is articulated by two of the film's characters, both coming at it from opposite ends. Hollywood reviewer Todd McCarthy describes the set-up in his review of the film:
Elizabeth and her scientist boyfriend Charlie (Logan Marshall-Green) continue to spar about the potential momentousness of their journey — she, who wears a cross, hopes to find confirmation of her religious beliefs that will point to the existence of a traditional creator, while he is convinced that what they discover will merely prove once and for all that Darwin was right.
Justin Chang in his Variety review describes this divide among characters regarding origins as bringing a "philosophical dimension" to Prometheus:
The continual discussions of creation vs. creator, and the attitude of one toward the other, supply the film with a philosophical dimension that its straightforward space-opera template doesn't have the bandwidth to fully explore.
It's rather fascinating that Scott uses the film not just to resurrect ancient astronaut theories, but to frame it as a debate between a Darwinian evolutionist and a cross-wearing believer hoping to prove "the existence of a traditional creator." In other words,  religion and secularism, theism and atheism, provide the film's philosophical tension.
And really, that's where the ancient astronaut debate always ends up.
I have long fascinated over the theory for this one reason: It doesn't really answer anything about our origins. Of course, it answers where WE came from. But what about Everything Else? As I recently mused on Facebook, "'The "Ancient Astronauts' theory begs the question of human origins. I mean, where did THEY come from?"
So in one sense, those who adhere to the ancient astronauts theory of human origins are simply stretching the origins question out, skirting the more obvious issue. This may be tactical. I mean, why believe in some bearded Cosmic Killjoy who delights in setting rules and enacting judgement when we can believe in benevolent ETs who wink at moral misdeeds in favor of cosmic evolution?
Despite this possibility, Morehead sees the intersection of traditional religion with ancient astronauts mythology as a good thing.
Scott's creation of a new mythology within Prometheus that presents an origin story based upon ancient astronauts is certainly not the stuff of tradition religion, but it does incorporate a sense of wonder. And it is here that we find a point of connection between science fiction and religion.
In other words, the ancient astronaut theory is a step in the right direction, it is a concession to "wonder" which is at the heart of all religious belief. So even though the sci-fi genre is often antithetical to traditional religious views, the ancient astronaut mythology and all its variants across secular and/or sci-fi culture, may be an (unintended) compromise with religion.
Think about it, the belief that ancient astronauts seeded earth is a concession to a Designer without a concession to the Christian God. It is a concession that humans could not just have happened. Some Intelligence must be behind life as we know it, even if that Intelligence turns out to be little green men. This is a good thing; it is a move toward wonder. After all, if the heavens declare the glory of God (Ps. 19), then lifting our gaze to the sky might be a step toward faith. Even if the "seeker" hopes for flying saucers rather than God, the implications of belief in extraterrestrial origins may start a chain reaction the "believer" cannot avoid.
However, ancient astronaut proponents must take their inquiry a step further. Even if interplanetary cosmonauts seeded the human race, we must answer the ultimate question: Where did our creators come from?
Are ancient astronauts the product of a Designed Universe, or simply chance byproducts of a Big Accident? An atheistic ancient astronaut mythology — one that concedes superior intelligences without conceding a Superior Intelligence — is ultimately contradictory. For if one answers that humanity was caused by superior intelligences, the assertion that those intelligences were Uncaused Accidents is nonsensical. It's like saying the Moonlight Sonata could not just have happened. But Beethoven, its Creator, is an evolutionary accident.
Which, I'm afraid, brings us back to square one. Humanity is either an evolutionary accident or intelligently engineered. And all the sci-fi origin mythologies in the world can't seem to skirt that dilemma.