I live about 45 minutes outside of Los Angeles and watched the L.A. Riots in real time. I believe the worst about human nature, so it wasn't a complete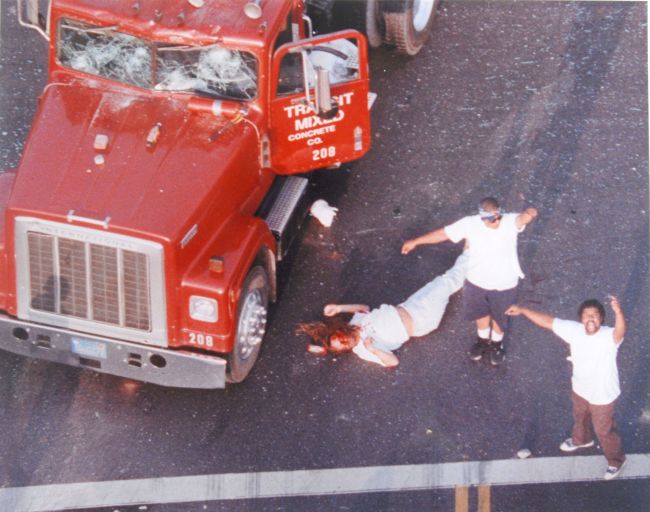 shock to see thugs wandering the streets, pelting cars with bottles, breaking storefront windows, and looting the very businesses they once frequented. Sixty-three people died that day.
But perhaps the most disturbing image of all was the feed from a camera crew circling above the intersection of Florence and Normandie as one Reginald Denny was pulled from his truck and beaten into a coma, while his attackers celebrated. Despite being a hardened cynic, that disturbed me.
There was much debate about what factors may or may not have contributed to the riot. But the shrinks, politicians, and talking heads always seem to miss the real issue.
Same thing happened in New Orleans. The devastation from hurricane Katrina was only the beginning. It was what came afterwards that's the "teachable moment."  As the United States scrambled to send troops and aid into areas devastated by the storm and subsequent flooding, chaos erupted in the streets. Desperate refugees rioted, looters ravaged abandoned stores, snipers fired on rescue teams, and corpses littered public areas. People who, maybe hours before, had been civil, courteous, friendly and compassionate, suddenly became animals.
What makes incidents like these so disturbing is not how close we may be, at any moment, to societal collapse, but whether societal collapse isn't a genuine reflection of our true natures.
Society collapses because we already have.
So I've been coming back to this verse in the Bible lately. It's kind of an obscure verse, but the basic concept behind it is rather compelling.
For the mystery of lawlessness is already at work; only He who now restrains will do so until He is taken out of the way. And then the lawless one will be revealed. . . (2 Thessalonians 2:7-8 NKJV).
Pre-tribbers like to use this as a proof text for their theory that when Jesus secretly removes His Church before the Great Tribulation (the Rapture), the Anti-christ (or "lawless one" here) will be revealed. For the record, I don't hold to a pre-tribulation rapture (the Church has historically believed that she will endure the Great tribulation). Which makes the interpretation of this verse all the more fun.
My takeaway: God actively restrains the spread of evil on earth.
Many see God as detached, uncaring, uninvolved in the minutiae of human affairs, turning His back on injustice and evil. Yet here, God (or God's Spirit, depending upon your interpretation) is portrayed as actively holding back mankind's wickedness. He is the One "who now restrains." And just as the levees of New Orleans broke, allowing floodwaters to breach the walls and engulf the city, so one day, God will release His "restraining" hand and the full-force of human depravity will flood the earth.
I find that idea fascinating for two reasons.
First, is the obvious one — God demonstrates His love not just by giving us something, but by withholding or keeping something from us. You are better off because God is "restraining" a spiritual / moral levee, both in and outside you.
Secondly, human nature may be the primary tool of God's judgement. I mean, what is God restraining? He's restraining US! He's built a dam against our destructive natures. Thus, God's judgement is not so much sending something upon as it is letting go of something inside us.
God judges us by letting us go.
WE are God's judgement upon us. All He needs do is remove His merciful hand and we descend into chaos, hate, barbarism, nihilism, despair, wickedness, immorality. The better angels of our nature are safe as long as God restrains the devils in our ears. There, but for the grace of God, go I.
And without the grace of God, we all go.