The "Religiously Unaffiliated" is one of the fastest growing demographics in America. And that might be a good thing.
By consensus, one of the top religion stories of 2012 was the Pew Forum on Religion & Public Life survey showing that "nones" — those who claim to have no religious affiliations — is the fastest-growing religious group in the United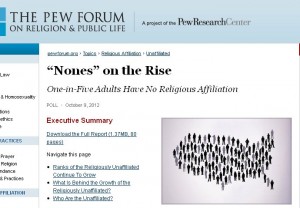 States, rising to 19.6 percent of the population. The report emphasizes that "the absence of religious affiliation does not necessarily indicate the absence of religious beliefs or practices." In fact, 68 percent of the "nones" say they believe in God and about 22 percent say they go to a church service at least monthly. Nevertheless, the survey produced significant hand-wringing among Evangelicals, who appeared to take some huge hits, namely in the defection of Millennials.
Some see the rise of the "nones" as a good thing. They suggest that the weakening of organized religion will lead to less political entanglements and healthier religious discourse.  Others believe this trend signals a dangerous theological erosion and cultural disconnect. I've found myself somewhere in the middle, neither applauding or panicking, for one simple reason:
In the long run, the Church is better off having less REAL believers, than having MORE fake ones.
Pardon me if that comes across as being harsh or insensitive. It's not intended to be. I'm not suggesting that institutional organized religion isn't culpable for driving seekers away or failing to engage the modern mind. I'm also not advocating we turn our backs on the "nones." I'm suggesting that…
They went out from us, but they did not really belong to us. For if they had belonged to us, they would have remained with us; but their going showed that none of them belonged to us. (I Jn. 2:19 NIV)
I realize that this verse, in context, is speaking about apostates, or "antichrists" (vs. 18) as the Apostle of Love calls them. However, the principle applies. Could it be that the "nones" went out from us because they never "belonged to us" in the first place? In fact, the growth of the religiously unaffiliated could be proof that the Church is actually doing her job.
I've been through my share of Church Growth seminars and how-to guides. The reasons why a church grows or doesn't are complex and varied. Consider this:
Some churches grow because they preach the Gospel.
Some churches DON'T grow because they preach the Gospel.
If Christ is our model, it could be said that He did a poor job of engaging "affiliates." Jesus alienated His share of "nones." Not only did He preach hard sermons designed to turn potential followers away (Jn. 6:66), He stressed the terms of discipleship in such a way as to make "affiliation" more, not less difficult (Lk. 9:23).
So isn't it possible that the rise of the "nones" reveals, in part, that the Gospel of Christ IS being preached, and some folks just aren't buying it?
Of course, the growth of the religiously unaffiliated could indicate a serious problem with organized religion. I don't want to minimize that possibility. It's way too easy and convenient to blame the problem on someone other than us. Chesterton suggested that some unbelief is warranted. When a false caricature of Christ is preached, it should be rejected. Likewise, the rise of the "nones" could be rejection of a false caricature of Christianity. In that case, more power to the unaffiliated.
But is all religious non-affiliation healthy or indicative of organized religion's disconnect? I don't see how it can be.
The essential message of Christianity is exclusive. We proclaim things like:
Jesus is the only way to God.
There is one true God, not one hundred and twenty-seven.
Truth is absolute, not relative.
We are sinners who need saved, not machines who need reprogrammed.
We are products of Intelligence, not chance.
Our souls will live on after death, and what we do now matters.
Problem is, some of the "nones" reject these exclusive claims of Christianity. So is this religion's fault?
Yes, Jesus wants us to spread the Gospel and make more disciples. But what Gospel are we spreading? What "essentials" are we compromising to make the Gospel more palatable? Are we more interested in numbers or the vitality of faith? And are we sacrificing the "hard sayings of Jesus" at the altar of church growth and "religious affiliation"? If John 6 is any indication, one evidence that the true Gospel is being preached could be a decline in church membership.
Of course, the Pew data may be a harbinger of the Church's demise. However, it may also indicate that the Christian message IS being preached and people just don't want to hear it. They want to hear that all religions are paths to God and that Christians are narrow-minded bigots. They want to believe that everyone goes to heaven and the Ten Commandments are outdated. They want to believe, pretty much, whatever they want.
And if that's the case, maybe it's better some people stay religiously unaffiliated.