It's refreshing to find a twenty-something Christian who is not only staying in Church, but is encouraging other twenty-somethings to do the same. In his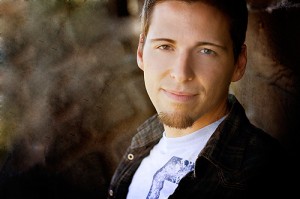 forthcoming book Called to Stay (releasing Oct. 2013 from Harvest House), Caleb Jennings Breakey does just that.
Subtitled "An Uncompromising Mission to Save Your Church," Caleb tackles the troublesome exodus of Millenials from organized religion, issuing a direct challenge: Rather than split, stay and BE the change you want. The book is garnering some great attention. Josh McDowell has endorsed Called to Stay and YouTube sensation Jefferson Bethke, creator of the 25 million views video Jesus>Religion, is writing the forward.
Along with answering a few of my questions about his book, Caleb is offering a unique opportunity for readers to join the conversation and help him "flesh out" his thesis. Just leave a comment, ask a question, or issue a challenge on this post. The most helpful, insightful, provocative comments or questions will not only be included in Called to Stay, but the commenters who are chosen will get a free copy of the book plus the DVD Series! This is a great chance for you to chime in, interrogate, or just vent about the Church.
* * *
MIKE: Thanks for joining us, Caleb! Your book Called To Stay releases this October from Harvest House. What prompted you to write this book?
CALEB: Called To Stay has kind of been a living journal. God didn't stir me to write about the church. Instead, he nudged me to stay in a church I'd grown bitter toward. It was only after the tears, stomach churns, and wounded pride that I could look over my shoulder and say: "I get it now. Thank you, Jesus. Let's do this. Let's write it down."
MIKE: I may be wrong, but the typical Millennial probably wouldn't respond like that. They would just leave. From your experience, what is the most common reason that Millennials give for leaving the Church? And does this reason have any validity?
CALEB: Can I play a nuance card here? Called To Stay isn't for every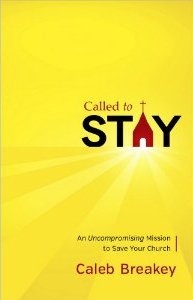 Millennial leaving the church. It's for Millennials whose passion for Christ drives them to leave. There's a big difference between the two. The former leave because the way of the world just seems like a better way to spend their time. The latter leave because the time they spend in church seems pointless in a broken world that Jesus is calling us to redeem.
The second reason has validity. But most hold this validity overhead while trampling underfoot God's commands of: 1) meeting together in a way that doesn't exclude the messy and immature; 2) structure and leadership; and 3) Christ's great mandate to forgive our debtors and to sacrificially love one another—including the Christian jerk who's yet to give his life to the true way of Jesus.
MIKE: So can Christians follow Jesus and still leave the Church? I mean, is it possible to be a disciple of Christ and be disconnected from His Body?
CALEB: God gives us all kinds of assignments. And while we are never commanded to stop meeting together, discipling each other, or extending sacrificial love to one another, we can be given assignments that remove us from them. If you are one of these believers, the most important thing is to discern whether or not you're hearing from the Holy Spirit—or simply what you want to hear.
MIKE: I recently finished reading Bradley Wright's Christians Are Hate-Filled Hypocrites… and Other Lies You've Been Told. Wright is Associate Professor of Sociology and UConn. The assertion of his book is pretty simple: The numbers purported to tout the decline of evangelicalism are being wrongly used by liberals and secularists who want to see evangelicalism go away, and by evangelicals wanting to whip up their troops. Wright goes on to cite stats that seem to suggest Millennials are NOT leaving the Church in the numbers often suggested. Youth have always left the Church and tend to return as they have families and get older. What do you think of Wright's assertion? Is it possible the numbers are being skewed by one group or another to serve their purposes? On what grounds do you think Millennial defection is a legitimate issue that churches must face?
CALEB: I think many numbers are skewed. The road from survey to truth is more of a maze with multiple exits than a freeway with one off-ramp. That's why I mostly avoided the use of statistics in Called To Stay. I admire the work that Bradley Wright and others like him do. It's valuable to society and I don't mean to demean that value at all. I simply decided to invest more in what Scripture says about staying in messy gatherings of believers than how many are leaving or returning.
Should churches be concerned over the juicy headlines about declining church attendance? Sort of. I think churches should mostly concern themselves with making disciples who speak the truth in love to one another, embrace God's plan for structure and leadership, and who long to build Christ's church through their church.
MIKE: Your book is intended to bridge the divide between the Church and Millennial "leavers." As a Millennial yourself, where do you think the "healing" starts? What percentage of "blame" falls on the Church and on Millennials, and who should make the first move to bridge the divide?
CALEB: One hundred percent of the blame falls on the body, and the other one hundred percent falls on the Millennials. The fact is that blame is sin—and no matter who's got more of it on our faces, we all need a shower of grace. We are all responsible for loving the sin-slingers and forgiving them. Daily.
As for who must bridge the divide? That person is you. It's the brother or sister who's reading this. We're in this together, and we must never, ever belittle the ginormous influence each of us has. A spark blown upon by God's Holy Spirit is a spark that burns.
MIKE: You raised $10,000 through Kickstarter to fund this project. That must have been incredibly encouraging. Tell me about the initial responses you're getting to the book. Will you be doing any sort of tour in conjunction with its release?
CALEB: The response has blown me away. Men and women of God are rallying. They're making sacrifices. They're going out on limbs. They're saying things and doing things that they haven't said or done before. The body is ­moving—and it's an awesome sight.
My wife and I plan to hit the road for six weeks this fall, hitting up as many churches and major conferences as we can to get Called To Stay in front of those who may not stumble across it in a bookstore. If you see a motor home with books falling out of the windows, wave. Flag us down. We're probably lost—and dinner is on us.
* * *
Much appreciation to Caleb for visiting. And remember, you can become a part of the Called To Stay dialogue by chiming in with questions or concerns in the comment section here.