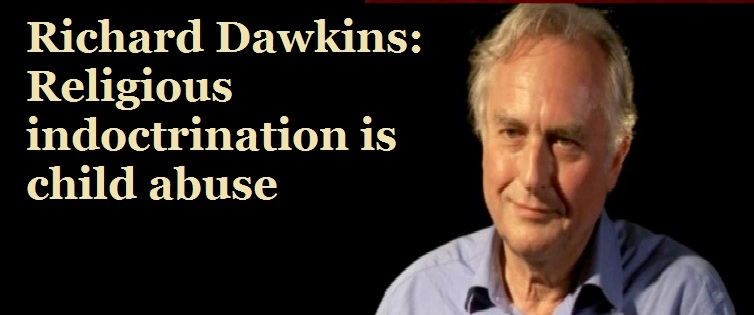 My son and his wife are high school teachers. The CA public school system is a mess. There's lots of possible reasons why. But one of them is the abandonment of traditional educational models for more progressive, therapeutic ones. For example, Outcome Based Education (OBE) continues to incarnate in different forms. The expected "outcomes" are determined by  the educators. Increasingly, it is more important to raise students who are multicultural, tolerant, and pleasant to be around, than ones who simply know their times tables.
This approach has reached into discussions of religion. For instance, I recently listened to an educator explain that…
It is wrong to teach kids a specific religion. We should give them options and let them choose for themselves.
Richard Dawkins, a prominent figure in the New Atheist Movement, recently hosted a panel entitled "Religious Fundamentalism & The Abuse of Children" at the American Humanist Association conference in San Diego. "What a child should be taught is that religion exists; that some people believe this and some people believe that," Dawkins told an audience at England's Chipping Norton Literary Festival according to the Daily Mail. "What a child should never be taught is that you are a Catholic or Muslim child, therefore that is what you believe. That's child abuse."
I agree with Dawkins and the aforementioned OBE rep, in part. "Forcing" religion on a child is wrong. However, the opposite could be true as well:
Teaching your child that they are the arbiter of religious truth is just as wrong as demanding they follow a specific religious truth.
Parents routinely "force" all kinds of things on their kids, from eating their vegetables, to sharing their toys, to recycling, to going to college. In many ways, secularists, while decrying religious indoctrination, seek to "force" their own gospel on the public.
It could be that teaching a child that all religions are the same constitutes a form of indoctrination.
I was recently listening to a podcast from Christian apologist J.P. Moreland in which he provocatively suggested that in order for their faith to be real, we must present our children with the option to NOT believe in God. This position understandably evokes questions. But I think it's the right one.
For one thing, belief that is not freely rendered by your child, but is coerced, forced, or demanded (especially as it relates to some reward), is not real faith. As scary as it is, without the option to reject your faith, what your child believes can never be their own.
However, this approach is only "effective"– "effective" as in that it sets the best stage for a willing conversion — when presented along with the reasons TO believe. A responsible parent should not just give their child the freedom to disbelieve, they should offer reasons TO believe and tools for discerning what is worth believing.
And this is where I think the OBE approach to religion is so fatally flawed.
By suggesting that children should be free to choose their own religion, not only do we minimize the real differences between religions and religious truth claims, we portray the child as the arbiter of truth. Not to mention, we take parents off the hook as far as imparting anything substantial to their kids.
Frankly, I don't care what my fourth grader feels about Jesus, Buddha, or Muhammad. They need to be told the truth about Jesus, Buddha, or Muhammad, given the intellectual and moral tools to make their own decisions based on that knowledge.
There's a fine line between "forcing" your religion on a child and leading a child into a religious tradition. Without respecting the child's free will and giving them the tools to determine the strength of your religion's arguments, a parent might indeed become abusive in pushing one perspective. But just as bad is an approach which frames religious truth in relative terms and makes the child the arbiter of that truth.