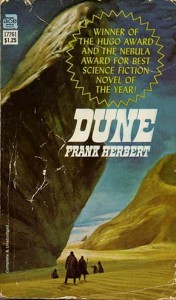 My YA IQ just went up.
It's been decades since I read Frank Herbert's sci-fi classic "Dune." I'm old enough, however, to have not been a youth when I read it, nor did I read it because it was aimed at youths.
I read it because I liked science fiction.
So when did Dune become a YA novel?
That's pretty much the question I had after reading NPR's 100 Best-Ever Teen Novels. I've never heard of most of the novels listed. But the ones I have read left me asking the same question: How is this a YA novel? Here's a few of the titles I was surprised to find on the list:
Dune
The Hobbit
The Lord of the Rings
To Kill a Mockingbird
Something Wicked This Way Comes
Fahrenheit 451
Lord of the Flies
Flowers for Algernon
According to the American Library Association, Young Adult Literature (YA) is anything someone between the ages of 12-18 chooses to read — which leaves the door open for just about anything to become YA. However, the most common definitions of YA fiction involves the age of the lead character and their quest toward adulthood.
Which, I guess, qualifies Dune as YA fiction.
And bunches of other books.
At one time, the squishyness of the label bugged me. Heck, even those who buy, publish, and write YA differ in how they define it. For one, we're not talking about genre, because YA contains multiple genres. We're talking category. And with the proliferation of darker themes — like sex, language, drug use, and despair — YA can't be said to be less graphic, more youth-friendly. Furthermore, some novels now classified as YA are as complex and literary as anything in the adult market (or is it that some adult novels are as simple or poorly written as kid stuff?). Then you've got the fact that as many adults read YA as teens. Point being, YA is a really big, rather nebulous, category.
And lists like the one above do more to muddle the definition of YA than clarify it.
The upside of all this is that my YA IQ has skyrocketed!
I mean, if The Hobbit, The Lord of the Rings, To Kill a Mockingbird, Lord of the Flies, and Something Wicked This Way Comes are now YA, then I'm a certified YA expert. If Dune is now a YA novel, I'm suddenly a lot more hip and youthful than I once thought.
Heck, in another 20 years, half of what's written will probably be considered YA. Which, in that case, would make the entire category moot.