Stephanie Drury keeps a very close eye on Stuff Christian Culture Likes (SCCL). I know. It's a tough job, but someone's got to do it. Especially when American "Christian culture" is so ridiculously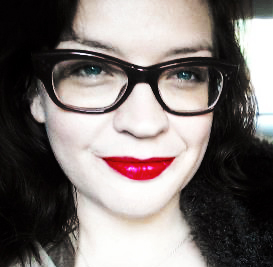 screwed up! An abuse survivor herself, Stephanie's Facebook site has become a rough-and-tumble hangout for a wide variety of survivors, evangelical critics, aspiring comedians, and spiritual malcontents. While some see  SCCL as place of healing and respite from the echo chamber of evangelical kitsch, code, and propaganda, others have described Stephanie's site as  "a cesspool" and her Followers "drones." Having been critical of SCCL and Stephanie's approach, I've recently found myself on the wrong side of the SCCL community… and have some exotic expletives to prove it. So in a blatant attempt to make amends (and extricate myself from my personal spiral of hate), I figured it was time to have the webmistress over for a chat. Which she graciously accepted!
* * *
MIKE: Thanks for visiting, Stephanie! You've described yourself elsewhere as an "agnostic but practicing Christian." Is that accurate? And if so, can you elaborate on that?
STEPHANIE: I don't feel comfortable calling myself a Christian, but I don't feel comfortable calling myself an atheist. I can call myself an agnostic because I'm not convinced that God exists, but I can't rule it out either, and I'm really drawn to a lot of Judaic thought as well as the teachings of Jesus. I think I do practice Christianity because I'm involved in a Christian church and go to a cathedral several times during the week and I bake bread for Eucharist each Sunday. But I can't do the evangelical thing where you say with confidence "I know beyond a shadow of a doubt where I'd go if I died tonight." So if you held a gun to my head, I don't think I could say I am a Christian. But maybe I would because I wouldn't want to get shot.
MIKE:  I first came upon SCCL when I was researching the growing trend of satirizing evangelical culture. The Church has plenty of things we can satirize. And being able to laugh at ourselves is a good thing. But at what point does satire become slander? I mean, isn't there a point at which laughing at brothers and sisters in Christ — even mean, misguided ones — is wrong? Do you ever worry that focusing on religious extremism could drive people further away from Christ and misrepresent the Universal Church, rather than heal the breech?
STEPHANIE: Slander is when you say things that are untrue about someone or something. So I would say the point that satire become slander is when it outright lies about something that happens in Christianity. I haven't encountered anyone who has lied about being raped by their minister father or youth pastor, and I haven't found evidence to believe anyone is lying about the ways they say the Church has misrepresented Christ to them. I've been a victim as well and I will do everything I can to be a voice for the silenced. I have been threatened to remain silent because if I told the truth it would ruin someone's ministry. But Jesus made it his mission to ruin the ministry of the Pharisees. He was a truth-teller, he was furious, he cussed them out, he kicked over tables and used whips on them. So no, I don't worry that focusing on religious extremism could drive people further away from Christ.
I get a lot of emails that say that because of SCCL people are taking a second look at church and are seeing the ways Jesus was misrepresented to them. SCCL is a triage center for those who are angry. There aren't any other safe forums that I know of to vent anger at the hurts we've experienced at the hands of the Church. We're told to quiet down and to not drive others further away from Christ by telling the truth. But the opposite is true. When the shame and abuse are exposed, then people can begin to heal. We've been told to be quiet for so very long that there is a lot of righteous anger that is festering and needs to come to light and be aired out so that healing can begin. And I'm very proud to say that is what happens at SCCL.
God can't be slandered by our anger. In half the Psalms the psalmist is railing at God. The commandment that says not to take God's name in vain means to not purport to do God's business when you're actually being self-serving. And I feel I'm keeping that commandment by calling out the behavior Jesus did not endorse and yet is widely accepted as Christianity.

MIKE: So do you believe that Evangelicalism as it's constituted today is inherently flawed, even evil? From your perspective, can a person genuinely follow Christ and remain an Evangelical?
STEPHANIE: I think that people can probably genuinely follow Christ and remain evangelical, but I don't think it will be easy. They will get a lot of guff for their politics and doubt. I think that following Christ has to involve a good measure of doubt, because we're depending on a lot of history and tradition that we did not witness. But we're also following a mystical calling that doesn't make a lot of logical or scientific sense. You can't quantify love and emotion and intuition, and my experience has been that Christ manifests in those ways. But I still have a lot of doubts, which makes me feel unwelcome in evangelicalism.
MIKE: You recently linked to my post "Religious Progressives' Top 5 Most Hated Evangelicals." Is there anyone I should add to that list?
STEPHANIE: I think Mark Driscoll is kind of at the top of everyone's list. Pat Robertson is pretty much a joke at this point, but Steven Furtick is up there, as well as Franklin Graham.
MIKE: Mark Driscoll is a favorite topic of SCCL. You even host a fake Mark Driscoll Twitter account. Do you think Mark Driscoll is doing ANYTHING positive for the Gospel? If not, why not? If so, why concentrate on him so much?
STEPHANIE: I think that what Mark Driscoll is doing is so dangerous because he does do some positive things for the Gospel, as you put it. Evil is very subversive and it always disguises itself as good. I have been in a lot of therapy groups with women who attend Mars Hill Church (I live in Seattle) and these women are shaking with fear when they come to session because they are terrified of being found out for going to therapy. They say that as a member of Mars Hill they have signed a contract saying that they aren't going to get counseling from anyone who isn't under the Mars Hill umbrella, but they say that when they talk to the MH counselors, they are told to "submit to their husbands more" and "pray harder." They all have the same story: they say they met their husband at Mars Hill and were encouraged very vehemently to have several children. They were also encouraged by the church to quit their jobs and stay home with the kids. So these women did those things against their better judgement. The ones who come to counseling still want to work some, but they have postpartum depression and suicidal ideation and many can barely function because they feel so trapped and hopeless. And the counseling guidance they are being given is to submit to their husbands more and pray harder. And they aren't allowed to even see the MH counselor without their husbands' permission. So when they come to outside therapy they are terrified of being caught, but they say our support is what gives them hope. I feel this is a very great evil.
I can think of no better way than to destroy a family unit than to debilitate the mother. They are carrying much more responsibility than they can manage and must cater to their husband in the ways they dress and keep the house, but they have their own desires to have some autonomy and use their degree and work, and they are shamed for this. Their children must bear the weight of their mother's nervous breakdowns and this sets more dysfunction in motion that will take those children many years to realize and then heal from, if they choose to. So to answer your question, this is why I concentrate on Mark Driscoll so much.
MIKE: Loaded question: Do you think it's possible to believe homosexuality is a sin and still be a "good Christian"?
STEPHANIE: It depends on how you define a "good Christian." If by it you mean someone who falls in line with what their pastor or denomination says, then yes. If by it you mean someone who engages the teachings of Jesus fully and thoughtfully, then no.
MIKE: Many supporters and fans of SCCL defend the community as a place of healing for victims of spiritual abuse. Can you give me and my readers some examples of the types of healing you've witnessed as a result of your site.
STEPHANIE: I have gotten a couple dozen emails saying that SCCL has saved their life, that they were on the verge of committing suicide because they felt so alone with their pain and doubt and the shame placed on them by evangelicalism. And I get a lot of emails saying that because of SCCL they're exploring Christianity again and going back to church and have curiosity about something they'd written off. A lot of people are much different now than when they first came to SCCL. They came there angry, and rightfully so, and their anger was validated and old worlds were smashed and new worlds were invoked, and now they are thriving. I'm tearing up just thinking about it!
MIKE: I attend an evangelical church, but it's nothing like the caricature of the church you portray on SCCL. Many evangelical churches include good people, with honest motives, who love others, start mission projects, feed the poor, serve their communities, etc. So are these evangelicals NOT part of "Christian culture"? Am I wrong for thinking you're taking the worst of the movement to whitewash the whole?
STEPHANIE: I always attended "good" evangelical churches. I am a preacher's kid and the churches always did many good things. But there was an underlying unspoken code that if you didn't adhere to all of there beliefs, you were out. Their love only went so far. I was rejected by my family and by my church friends for questioning. They could not be in relationship with me if I was asking questions about how church ran. And that is not what Jesus modeled at all. I don't know if anyone who has ever been to your church has ever felt rejected by the people there, but of the thousands of people I interact with at SCCL, we have all experienced this. There is a great deal that goes on in the church that we refuse to not look at because to look at the truth will be very costly. Questioning is the most frightening and yet most freeing thing that has ever happened to me. I have a lot of curiosity about God through it all because I feel he has been so deeply misrepresented by the Church. Keeping people in the Church should not be the goal. Love and truth should be the goal, because where those two things are, God is. God cannot be thwarted by the truth. She can only be revealed through it.
MIKE: I have contemplated starting a Facebook page entitled "Stuff Religious Progressives Like" (SRPL) to catalog and satirize whacky aspects of the religious progressive movement. Sort of a counter to SCCL. From your perspective, are there extremes on "your side"? If so, what are some things I should consider including at SRPL?
STEPHANIE: I think that a lot of religious progressives like to make a big deal out of their liberal politics, which is kind of funny because that can easily become another form of fundamentalism. I feel like a lot of former conservative fundamentalists react by becoming liberal fundamentalists when they are first trying to think for themselves. And that's normal. It's just kind of something I keep in mind. I don't identify as progressive, because I don't think that progressives value questioning very highly. I think they kind of "know" what they know and aren't often curious about discussing it further. But I very much like Peter Rollins' radical theology that he has outlined as a response to progressive theology. He talks about radical theology a way of being that includes questioning. You could try to satirize the radicals' affinity for questioning, except you'd also be satirizing the tradition of thousands of years of Jews and Jesuits and the like. Hmm. Oh! Progressives like tattoos. There's something you could have a go at.
MIKE: Over at your FB page, one commenter mentioned you might be doing this interview with me and suggested I was requesting it just to get page hits. So… do you want this post to get a lot of page hits?
STEPHANIE: I think it would be funny if it did! But I make zero money off SCCL and am making zero money off this, so it's kind of a toss-up.
* * *
Thanks so much for visiting, Stephanie!