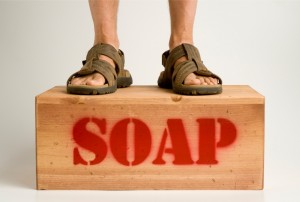 For novelists, one of the more interesting opportunities/dilemmas created by social media is the ability to voice their opinion,  not just on writing, to more people. Now, not only can you follow an author to learn more about their writing habits and upcoming projects. Stick around and you're liable to find out their feeling on politics, religion, and any number of controversial trending topics.
Opinion seems split on whether this is a good or a bad thing.
Several years ago, I began following an author on Facebook — an author I really liked. I'd read half a dozen of his books and thoroughly enjoyed his technique. The problem, for me, was learning how opinionated he was about things other than storytelling. And how diametrically opposed we are ideologically. On occasion, I considered commenting on his posts (which were usually fairly Left of center) but was pretty sure that his fanbots would tear me a new one. Not to mention, coming out as a Conservative novelist might put me on a radar I could do without. So I shut up and moved along.
Coincidentally, or not, I haven't bought one of his books in a while.
I had an opposite experience more recently. I friended an author on Facebook and, after scrolling through his timeline, was rather shocked to see he'd posted some very conservative things. (I describe this as "shocking" because unless a novelist is openly writing for an evangelical audience, expressing conservative sentiments seems a bit risky.) So I checked to see what kind of publishing canon this guy had accumulated and, once again, was surprised. Apparently his political opinions had not kept him from building a fan base and selling books.
Coincidentally, or not, I bought one of his books.
Look. I am not one of those puritans who only Likes the art of folks I agree with. My bookshelves are filled with novelists who I disagree with religiously and politically. I came to the conclusion a long time ago that it is prudent to separate the art from the artist. Good art can be made by bad people… much less, people I disagree with. Does Joss Whedon's atheism detract from Firefly or the Avengers? Does Mel Gibson's drunken, anti-Semitic incident make The Passion of the Christ any less special? Stephen King is a Red Sox fan, but that doesn't keep me from reading his books. Alan Moore worships some weird snake god, but it hasn't lessened my love for Watchmen. Sure, I still roll my eyes at their perceived idiosyncrasies. But enjoying their stuff has little to do with them meeting my ideological standards.
However, I'd be dishonest if I said these things ultimately don't matter.
In fact, political, religious, ideological agreement does indeed seem to factor in the gaining or shrinking of one's fan base. There's a good reason why some Friends of Abe members remain anonymous. Being an outspoken political conservative in Hollywood is not a fast track to fame. And there's plenty of incidents of some famous so-and-so voicing public support for this or that only to feel the fallout in concert, box office, or book sales (or being drop-kicked from your role as CEO Of Mozilla).
Maybe the is why some argue that the best approach is for authors and artists to keep their traps closed. Why risk offending potential fans with political rants or religious discourses? Just shut up and sing. But if my aformentioned writer friends are any example, this approach seems less and less the path of choosing.
Nor does it seem to have hurt their brand.
This has been on my mind lately, namely because I've been veering way from writing for the Christian market and aiming more mainstream. Does such a change mean I should rein in my social media opinions? Do I potentially alienate readers by talking too much religion or weighing in too often on the controversy du jour? Should I get off my soap boxes and re-brand myself as a soft-spoken, un-opinionated novelist who simply wants to entertain?
I had this conversation with my agent last week and I thought she said something pretty smart. She said the reason she started reading my blog was because of my opinions. No, we didn't always agree. But it was the fact that I was willing to address controversial issues, be provocative, and noodle about deeper subject matter like philosophy, theology, art and culture, that first attracted her. My guess, she said, is that most of your readers see this as part of your existing brand.
Bottom line — Shutting up now would not be true to who I am.
Every novelist or artist must decide what soap boxes are worth climbing on. Avoiding them all together may be a reasonable option for some. While I don't ever want my art to be eclipsed by my religious or political opinions, I also don't want to pretend I don't have any. Or that they don't matter.
Ultimately being true to myself is more important than gaining or losing readers.
But, hey, that's just my opinion.
{ 5 comments }