Cormac McCarthy's The Road won the 2006 Pulitzer Prize. It also currently has 312 one-star reviews at Amazon and over 8,000 one-star reviews on Goodreads.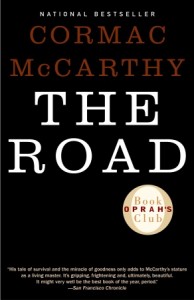 Pulitzer Prize. Lotsa one- star reviews.
Best book of the year. Worst book of the year.
Classic! Piece of crap!
I read the book when it first came out. It was my first (and only) Cormac McCarthy novel. I loved it. I enjoyed the minimalist use of language, the sparse, bleak, apocalypse the characters traversed. The Road was my favorite book of that year. It won numerous awards and critical praise, which I thought McCarthy deserved.
As expected, there were many five-star reviews calling it a masterpiece, a literary achievement, a work of art. And then there were the dissenters. No, not the readers who just couldn't get into the story and didn't like the punctuated, staccato, cadence. Not those who tried to be objective and weigh positives and negatives. Not those who retained a semblance of composure. No. I'm talking about reviewers who utterly, completely, quite perfectly, despised The Road.
The antipathy towards The Road seems to fall into one (if not all) of three gripes:
It's too bleak
It's stylistically bad
It's really over-hyped
So there's lots of Grammar Nazis and Establishment Haters in the mix.
You want some examples? Okay.
This book is vile. This book is a lie. It is a festering wasteland of despair and sadistic pathos pretending to contain some freakish remnant of love. – Richard
Recall a urinal displayed as art? This is similar, but less thoughtful. — slithy tove
The Road, I can honestly say, is the worst book I have ever read.– Robin
I can only recommend this book to aspiring writers wanting to know what it takes to win the Pulitzer Prize. Clearly, punctuation, plot, character development and consistent narrative aren't necessary, but drawing vague metaphors regarding human nature and the declination of western society are encouraged. — C. Maxwell
tragedy porn — Keely

Apparently, once you're a famous author you can say, "f*** the rules of the English language, I'll do what I want." — John
This is my first Cormac McCarthy novel, and I have little doubt it will be my last. It is not hyperbole to say that *I* could write better. If freestanding gerund phrases, missing apostrophes, and minimal character development are all it takes to win the Pulitzer Prize, then "I weep for the future" of American Literature. — axeeugene
the literary equivalent of The Emperor's New Clothes — W. Morris
interminably dreary and interminably repetitious, repetitious, repetitious, repetitious, repetitious, repetitious… — K. Bunker
I don't have the stomach to wade through poor english and even poorer logic — ever for a supposedly good story. My God, what has happened to our language, to our critical faculities (sic)? — Jonas
A tedious and dreary book — John
…a tour through a macabre mind, a desolate wilderness of the desperate soul. If by some feat of technology or magic, one could take a guided tour through the hell of another's life, any sane person would ask – of all human experience why go here? McCarthy scores for those who are such tourists of despair. But even on technical merit, there is no redemption for this exercise in spiritual torture. Get it out of my head – it's like the mind chewing grubs from the Wrath of Khan.– Michael
linguistic debauchery — John Doe
Perhaps this is just the downside of democracy. I mean, if everybody's got an opinion and can publicly air it, then bring on the torches and pitchforks. Maybe it's a backlash against snooty critics trying to jam "literature" down our throats. Or perhaps we have a terminal case of the "writing rules."
Whatever the reason for the revulsion, I can see not calling The Road a masterpiece. But calling it "a festering wasteland of despair and sadistic pathos" just seems, well, a little over the top.
{ 21 comments }