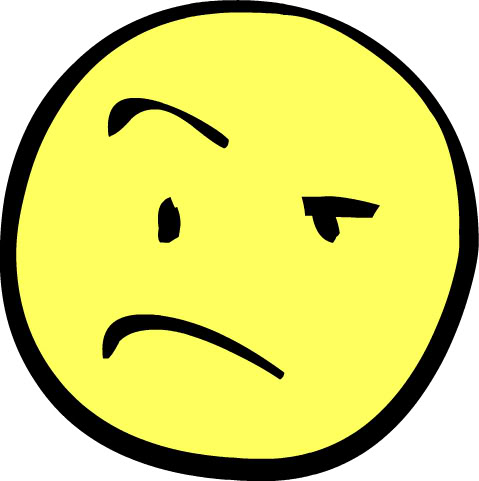 I heard a preacher once say cynicism was a sin that Christians should repent of. I immediately distrusted the man.
Okay. That's a bit of an exaggeration. I just took everything else he said with a grain of salt. You see, I have come to view cynicism as a rather healthy reaction to the state of things. Unlike the bubbly optimist, the cynic is grounded in the real world. Of course, cynics may indeed be crushed romantics; they've been hurt, they're sensitive, and their cynicism is a shell that's protecting a tiny, sacred part of themselves that dearly wants to believe. Then again, cynicism could indeed be the cancerous toxin poisoning the well of a "well lived" life.
One of the many parental proverbs we foisted upon our children when they were young was this one: "Prepare for the worst and hope for the best." It's become a motto of mine, a "life verse" if you will. Both parts are necessary for a healthy existence.
Prepare for the worst — Because bad things happen and you're a fool if you think you're exempt
Hope for the best — Because God promises His kids a bright future and to work all things out for good
Removing either one of those exercises is equivalent to removing one wing on an airplane. The disastrous outcome is about the same. The person who looks only at the worst and expects only the worst, will become a sink of despair and an incessant bellyacher. The person who looks only at the best and expects only the best, will either be crushed by reality or become lost in the clouds of idealism.
Because we live in a fallen world, populated by sinners and charlatans, a certain degree of skepticism and distrust is healthy. Heck, even Jesus did not entrust Himself to anyone, "because he knew human nature" (Jn. 2:24). Unlike some of us, Jesus was never "too trusting." He saw us for what we are and kept relative distance because of that. Likewise, Scripture speaks often about discernment — the ability to see below the surface, uncover agendas, perceive motives. Seeing your spouse, minister, congressman, or favorite musician as anything other than a vile sinner is a set-up for disappointment. In this sense, cynicism plays a part in discernment and can be an important component in a wise, balanced life.
Of course, someone with a propensity toward melancholy (or paranoia, or pessimism), will laud these observations. (Cynics love having their naysaying, nitpicky observations confirmed. Public scandal, divorce, fraud and debauchery ensconce the resident cynic further in his curmudgeonly appraisals.) For the Christian, however, living in such a constant "glass is half empty" state is not optimal to the kind of life Scripture seems to encourage. In this sense, cynicism is only good as long as it is balanced by faith, hope and love. Without the other virtues, cynicism grows unchecked, draining the life from its host.
It should also be noted that there's a difference between being cynical and being a cynic. Scripture seems to imply as much. Take for example Psalm One:
Blessed is the man who walks not in the counsel of the ungodly, nor stands in the way of sinners, nor sits in the seat of the scornful. (Ps. 1:1 KJV)
The Bible often describes this "blessed" state, what it looks like and how to get there. This verse says we're blessed by not doing something — specifically, three things. Blessed is the man that doesn't…
WALK in the counsel of the ungodly

STAND in the path of sinners

SIT in the seat of the scornful
The downward progression appears intentional. From walking, to standing to sitting. The final state is sitting in the seat of the "scornful." The Hebrew word for "scornful" is "to mock, deride, ridicule, scoff." It implies habitual action and refers to someone who is regularly engaged in scorn, mockery, and ridicule. The Psalmist is not describing an occasional opinion or attitude, but a manner of being, a thoroughly settled state or condition.
Likewise, there's a difference between being cynical and being a cynic, seeing people for what they are, acknowledging "the worst" in life, and sitting in the seat of the scoffer.
After my church disbanded and I left behind over a decade of ministry, I was tempted to move from being cynical to becoming a cynic. I had experienced firsthand the worst of evangelicalism. I had suffered disappointment and become someone I did not like. It was a toxic situation. Not only do I tend to overthink everything and succumb to flights of melancholy, but my experiences in the ministry left me bitter and full of scorn.
I was moving from being cynical to officially becoming a cynic. I skirted the ranks of mockers who jeered Christianity and was tempted to take refuge in that state.
And that's where the "hope for the best" part kicked in.
The biggest problem facing the Christian cynic is reconciling the spirit of Scripture with their negative, pessimistic outlook. No doubt, there is plenty for us to rail about in this life. The Bible adds fuel to the cynic's fire by making numerous gloomy (albeit accurate) assertions about the world and those who live in it. In fact, many of these assertions are foundational to a Christian worldview. For instance:
Man is estranged from God, his impulses and moral faculties are warped, his nature is permanently corrupted.
Because of our sin and spiritual rebellion, the earth is cursed and each successive generation inherits the genetic drag.
We live in a state of cognitive dissonance, knowing God's law but compelled to forever break it.
Apart from God's saving grace, we will die in our sins and dwell in eternal torment.
The world system is intrinsically evil; civilization will get worse and worse, exceedingly violent and depraved, until God intervenes.
Hell is the destination for all those who reject God's grace; that road is wide and many walk it.
The Bible confirms the fact that people are screwed up, the world's going to hell in a handbasket, and if we don't pull our heads out of our rectal cavities, we'll find ourselves in the mix. The Christian worldview is built upon a series of blunt, bald, unglamorous declarations about the state of things. Like it or not, there is reason to distrust others, be suspicious of anything popular, eschew all things rosy and buck utopian ideals. Armageddon is inevitable.
Which is why non-believers often see Christianity itself as a cynical, pessimistic, fatalistic religion.
Thankfully, the Scripture doesn't stop there. If it did, we could rightly slink off into despondency or smug judgmentalism. And herein lies the Christian cynic's dilemma: The same Book that charts Hell and the handbasket we're heading there in, proclaims hope to the captives, rest to the restless and cheer for the chronic pessimist.
To the dismay of cynics everywhere, the last book of the Bible sounds a note of eternal optimism.
Then the angel showed me the river of the water of life, as clear as crystal, flowing from the throne of God and of the Lamb down the middle of the great street of the city. On each side of the river stood the tree of life, bearing twelve crops of fruit, yielding its fruit every month. And the leaves of the tree are for the healing of the nations. No longer will there be any curse. The throne of God and of the Lamb will be in the city, and his servants will serve him. They will see his face, and his name will be on their foreheads. There will be no more night. They will not need the light of a lamp or the light of the sun, for the Lord God will give them light. And they will reign for ever and ever. (Rev. 22:1-5 NIV)
Whereas Genesis opens with the Desecration of Earth, Revelation concludes with its Reclamation. For now, evil reigns. As do cynics. But a Day shall come when the tares are plucked from the field, the chaff torched and the Garden restored to its former beauty.
He will wipe every tear from their eyes. There will be no more death or mourning or crying or pain, for the old order of things has passed away. He who was seated on the throne said, "I am making everything new!" Then he said, "Write this down, for these words are trustworthy and true." (Rev. 21:4-5 NIV)
And therein lies the rub. While Scripture permits us a critical, unbelieving eye as it pertains to the things of earth, it does not allow us to remain there. We are faced with an ultimatum: Either God wins or He doesn't; either the Son rises or the Night prevails; either the new comes or it's same old, same old.
And this is the crossroad — the point of impact — where every Christian cynic inevitably arrives.
At the heart of terminal cynicism is unbelief — an unwillingness to take God at His Word, to trust Him to bring about what He has promised. Yes, I have reason to be skeptical, critical, derisive and suspicious. But I also have reason to rejoice, to have hope. When I padlocked the door to my church and hung up my robes, I had the option of wallowing. Did I get a raw deal? Possibly. Was the church to blame? In part. Did I have issues? You bet. But I couldn't open the Bible without verses like this tugging at the cancerous root:
And we know that all things work together for good to those who love God, to those who are the called according to His purpose (Romans 8:28 NKJV).
Call it wishful thinkful, Pollyanna, rose colored glasses — whatever. Either it's true or it ain't. Either God can work all things together for good, or He can't. Either God wins, or He doesn't. It's okay to be a cynic, especially as we are skeptical of ourselves. It's when we allow that cynicism to erode our faith in God that we are in danger of taking a permanent "seat" with the scornful.
So, yeah — cynicism IS  a virtue. But only so long as it remains subservient to hope.
{ 4 comments }