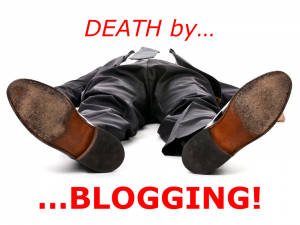 Historical fiction author Jody Hedlund, who's also a prolific blogger, announced some Writing News today that caught my eye. Jody is a great communicator and has built a fantastic platform with non-obtrusive marketing, practical advise, and a very active social media presence. Nevertheless, she's making some changes to her blogging schedule and approach. She writes:
I think the nature of blogging is changing. While blogging was once considered essential to a writer's platform, most of us are beginning to understand that a blogging platform for fiction-writers doesn't translate into significant sales (at least for the average blogger).

In a day and age with limited time and resources, writers are realizing their time is best spent writing books—including eshorts and enovellas. Getting our stories in front of readers does much more for furthering our careers than blogging. (emphasis mine)
As a result, Jody will be transitioning away from posts aimed mainly at writers, to posts aimed at connecting with readers. Her reasoning is that…
A fiction writer's BOOKS are the primary means of growing readership, not their BLOGS.
This point is unarguable. Unless, of course, your blog is entirely about your books. And that's the rub for us writers. Most of us don't want to talk about ourselves and our books 24/7.
I don't know many fiction writers who LOVE blogging. Most of us find it a chore coming up with fresh ideas and approaches to subjects that are covered ad nauseam in the blogosphere… and still maintain a decent fiction writing schedule. Which means HOW we approach blogging could be what keeps us from burning out or becoming a shill.
So here's my idea:
Blogging will be harder for the fiction author if their primary reason for blogging is to sell books.
Well, you ask. Isn't that what you're trying to do here? Sell books? Of course! Who else is going to sell them? However, this blog is just one platform for doing so. I don't blog mainly to sell books. I blog to connect with people. I blog to express myself. I blog to make sense of things. Of course, I will talk about my books, continue to advertize them on this site, and occasionally gush. But if that was my main objective, you'd smell it like a rat. And I'd get really, really, bored.
Almost a year ago, I wrote a post entitled One Blogging Rule Worth Breaking. That "rule" is the one encouraged by many professionals. Bloggers are consistently encouraged to find a niche and then mine that audience, to narrow your subject matter in order to target specific readers. They suggest  that blogging randomly is antithetical to building a fan base.
But regularly blogging (2-3 times a week) about one theme or subject — unless you are a bona fide insider, with extensive knowledge of a subject, and a crack network of experts at your disposal — is precisely why many bloggers burn out. As Jody writes:
After blogging about writing and marketing for the past three years, I've tackled nearly everything there is to say regarding writing and marketing. …I'm not sure that I have THAT much more to add to the discussion that hasn't already been said.
I totally get this! Which is why, in my aforementioned article, I concluded with this:
If I had to give advice to a blogger about how to have staying power, it would be this: Write about what interests you, when it interest you. If what interests you is all over the map, so be it.

Ultimately, it is more important that you blog regularly, than that you define a niche. People will read your blog long-term because they like your voice, appreciate your spin, and the community of commenters, not because you are an expert on any one given subject.
All that to say, I don't believe blogging is essential to a fiction writer's platform. But it helps. In fact, it can really help. Especially when you're a self-published or small press author who doesn't have the marketing resources available like the big dogs. So the key for the fiction writer is finding an approach to blogging that will help them stay fresh and do it long term.
Your thoughts?