One of the most uncomfortable realities of being a writer is asking for blurbs. It ranks somewhere between Irritable Bowel Syndrome and having bamboo spikes driven under your toenails on the enjoyability meter.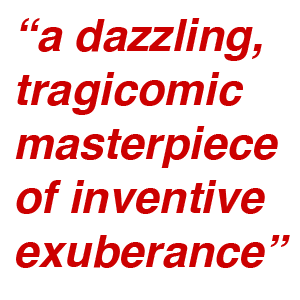 Before The Telling released, I determined to aim high for endorsers. Nothing but "big names." I contacted a dozen high-profile authors, most of whom I'd had personal contact with, about blurbing the book. When the publication deadline was reached, I had approximately…
ZERO ENDORSEMENTS.
(After the book was released, one author did contact me, apologized for missing the deadline, and graciously sent me a nice endorsement.) Either way, the process was quite a let-down.
I suppose my first reaction is the reaction most authors have when another author does not endorse them:
The reason no one (of consequence) has endorsed my book is because IT SUCKS!
I probably don't need to say this, but if you want to write long-term, quashing such thoughts is exigent. Of course, making your books more endorseable — well-written, with rising authorial stock –  is important. But until authors are banging down your door to endorse you, the reality is that getting blurbs for our books remains a tedious necessity.
For whatever reasons, I am now in the weird position of having authors ask me for blurbs. Which kind of sucks. Don't get me wrong, it is quite flattering that ones name would be considered a positive commodity. Furthermore, it's good form to throw writerly love around, whether it's in asking for or giving endorsements. Bottom line: Being asked to endorse another writer's book is a totally awesome problem to have.
The sucky part of this deal is being caught between wanting to be a "blurb whore," endorse EVERYTHING, and only wanting to endorse books and authors I can GENUINELY get behind.
There's a downside to both these extremes:
The author who endorses EVERYTHING loses credibility, especially when books they endorse turn out to be not so good.
The author who only endorses books they GENUINELY like looks like a chap ass, a snobby elitist who lets taste interfere with friendship.
So I had to contact a couple author friends recently and tell them I could not endorse their book. I felt like a total schmuck. I couldn't offer an endorsement not because I didn't like their books, but because I didn't read them. I was just too swamped with my own projects. Perhaps I need to rethink my standards for endorsement. Do I really need to read a book in its entirety and enjoy it before I can attach my name to the title? Why not just endorse the book and stop being a jerk?
Anyway, I felt like a piece of garbage.
And when it comes to blurbing etiquette, maybe that's the first piece of advice I'd give to an author:
When you ask an author for an endorsement, you are potentially putting them in a place to feel like a schmuck.
Respect that. Do you think they like saying "no" to you? Do you think you're the only one whose career, reputation, and time is in the balance here?
Which is why it's good policy when seeking endorsements to simply be polite. Use terms like, "Would you CONSIDER endorsing my latest novel…" or "IF time allows…" In other words, don't act like a blurb is pending.  Or, even worse, like your author friend owes it to you. And by all means, do not keep score. By that I mean, "So-and-so never gave me an endorsement so I'm never buying another one of their books." Dude, don't take it so personal.
Finally, when the potential endorser gets back to you and says they're unable to endorse your book at this time, please — please — don't pout. In fact, this is the time when bridges are strengthened and industry relationships are built.
Perhaps your response to NOT getting an endorsement may pave the way for future endorsements.
When said author says they can't blurb you, write them back and thank them for considering. Don't go sulking into the shadows. Don't hang up and leave static. And don't throw a pity party. Tell them you appreciate their time, you understand how busy everyone is, wish them luck on their current projects… and log the relationship. The worst thing you can do after an author informs you they can't supply a blurb is to start sniping with them. "Why not? You recently blurbed so-and-so's book and theirs isn't half as good as mine."
FAIL. A thousand times over. FAIL.
Instead, be gracious and thankful for the blurbs you do receive. If you haven't received any yet, "Keep asking. Keep knocking. And keep seeking." And when another author approaches YOU for an endorsement, you'll have a richer appreciation for this ugly affair.
All that to say, those authors who were unable to endorse my last book can be expecting another email for my next book. I am not too shy to keep asking. You shouldn't be either.